All-Natural Double-J Boobs!
Ashley Sage Ellison » Boobs & Bubbles
"I don't need exciting," Ashley said. "Sometimes the simplicity of a moment can make it perfect." The simplicity of a bath taken by a beauty with huge boobs is definitely appreciated in this video. Ashley may be a quiet girl but her breasts communicate loud and clear. "My boobs started to grow when I turned 15," Ashley said. "Then they got bigger and bigger and bigger. And that's where I am now.
November 27th, 2012
15:32 mins
Rating
Download Options
Full Scene Download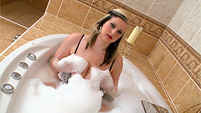 Five-minute Clips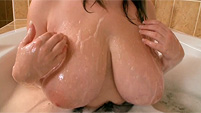 More Ashley Sage Ellison Videos