All-Natural Double-J Boobs!
Ashley Sage Ellison » The Ashley Sage Ellison Interview
Here's an exclusive combination interview and bra-modeling video with Ashley, shot in Manchester, England. It was too cold to do anything outdoors, so our crew took Ashley inside to try on her bras. You'll find out how Ashley hooks on her bras in the morning. We also find out a lot about Ashley. She's a beautician by profession and does hair, nails and makeup. All beauticians are into looking their best, and as a model working in the beauty biz, that goes triple for Ashley.
November 27th, 2012
12:44 mins
Rating
Download Options
Full Scene Download
Five-minute Clips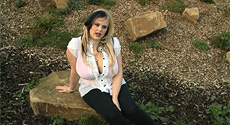 More Ashley Sage Ellison Videos