The Super Stacked Girl-Next-Door!
Ashley Sage Ellison » Monokini and Mammaries
In this video, Ashley is on the island of St. Maarten in the Caribbean, dressed just a wee bit skimpier than she currently could dress back home in Manchester. Not that we're knocking cooler weather. Cold temperatures do make a girl's nipple stand out more. Back home, Ashley is well known in her neighborhood. "There are a lot of great shopping centers and stores where I live, and all the store clerks know me by my first name," Ashley told one of our editors.
November 28th, 2012
18:33 mins
Rating
Download Options
Full Scene Download
Five-minute Clips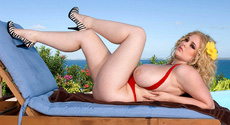 More Ashley Sage Ellison Videos