Boob-Men's Mega-Favorite Legend
Busty Dusty » Ride 'em, Dusty!
In one of Dusty's most-intimate and personal scenes, she's an equestrienne in a full British riding outfit galloping a horse back to the stable before she goes inside. She's the sexiest rider you've ever seen as her mega-tits tent her white, button-down shirt, and her tight leggings hug her muscular ass. She takes her hair down and strips slowly for the camera, and before long, she's cooling down by pouring water all over her body. We get super-closeups of her pussy and asshole as she gives them a good rubdown. Ride 'em!
January 10th, 2012
13:48 mins
Rating
Download Options
Full Scene Download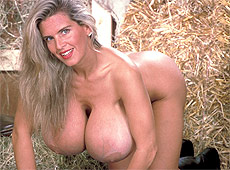 Five-minute Clips
More Busty Dusty Videos