The All-Natural 34-JJ
Queen of Boobs!
Kerry Marie » Pink All Over
When the camera bobs up and down, it's not a technical goof. It's the camera operator's erection tipping the tripod. No one can blame the poor bastard. Kerry picked a real Valentine's Day babydoll nightie for this video. That large vibrator really cleaves her pussy lips apart. The powerful vibrations were giving her intense pleasure up and down her spine.
August 17th, 2018
6:27 mins
Rating
Download Options
Full Scene Download
Five-minute Clips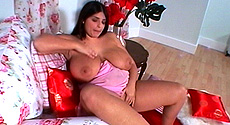 More Kerry Marie Videos