The All-Natural 34-JJ
Queen of Boobs!
Kerry Marie » Cave Woman
Travel back one million years B.C. when all was savage, untamed and wild. The story you are going to see is about Kerry Marie's ancestor. She was called Kerry Stone, queen of the jungle and she ruled her patch of the forbidden forest with a firm hand. There weren't a lot of good prospects back then for busty warrior-goddess babes. They met a lot of Neanderthals, homo-pithicuses and chaps who walked on their knuckles.
December 22nd, 2017
16:59 mins
Rating
Download Options
Full Scene Download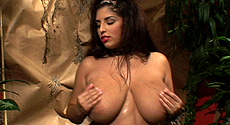 Five-minute Clips
More Kerry Marie Videos