The All-Natural 34-JJ
Queen of Boobs!
Kerry Marie » Under Construction
And you wanted to know why labor costs are so high for construction budgets today. It's because the female workers like Kerry Marie are playing with their great, big, greasy tits instead of laying the foundation. And the bloody male workers are too busy watching her and wanking while she does it. It's no surprise that these filthy punters are spunking off over Kerry's antics when they should be laying pipe! Look! Look! Ten minutes in and a dirty minger is pawing her oily jugs with his grabby hands! No wonder we're behind schedule! And who the bloody hell authorized a bloody dildo to be attached to a drill to make a drill-do? That's clearly against the union rules. It's enough to drive a construction foreman to go for a box lunch! (This video is part of the DVD Busty Kerry Marie Volume 2.).
September 28th, 2018
22:16 mins
Rating
Download Options
Full Scene Download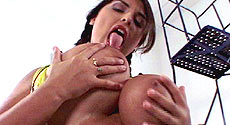 Five-minute Clips
More Kerry Marie Videos