The All-Natural 34-JJ
Queen of Boobs!
Kerry Marie » Sorority Girl
Kerry Marie wants to join the most popular sorority Omegaboob on campus. She meets with the sorority leaders who smugly tell her she has to shag this dude Joey or they won't accept her. Kerry's a very clever lass so she figures out a way to trick them and still get into the sorority..
March 16th, 2018
18:11 mins
Rating
Download Options
Full Scene Download
Five-minute Clips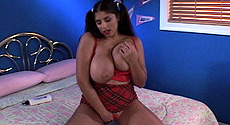 More Kerry Marie Videos