The All-Natural 34-JJ
Queen of Boobs!
Kerry Marie » A Date With Kerry Marie
While you have a sparkling restaurant conversation with Kerry in this video, "A Date With Kerry" (suggested by an editor with a sick, romantic bent), your filthy, tit-crazed mind wanders to thoughts of palming, rubbing and squeezing her ultra-exciting hooters, the breasts you have admired and fantasized about for so long in BustyKerryMarie.com. Then the spastic waiter knocks her plate into her glass, spilling the contents onto her cleavage. The stupid fool. You'll have his job for this outrage! Then again, maybe he accidentally did you a favor. Now you can sit on Kerry's couch next to her as her tongue twirls a pattern on a popsicle.. .
November 3rd, 2017
26:13 mins
Rating
Download Options
Full Scene Download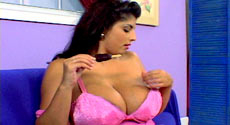 Five-minute Clips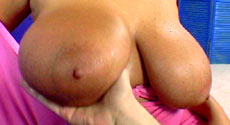 More Kerry Marie Videos