The All-Natural 34-JJ
Queen of Boobs!
Kerry Marie » A Girl's Pleasure
"I left school and I wanted to be a Military Police officer in the Army, and I went for my initial interview, but I was 5'3" and at that time you had to be at least 5'5" to join the Military Police," revealed Kerry. "They asked if I'd like to join as something else, but I had my heart set on the Military Police, so I didn't join. It's quite a good thing now, but at the time I was very upset." Can you imagine this delicacy as an MP? The mind boggles.
June 15th, 2018
6:39 mins
Rating
Download Options
Full Scene Download
Five-minute Clips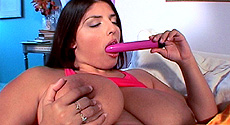 More Kerry Marie Videos