The All-Natural 34-JJ
Queen of Boobs!
Kerry Marie » Good Nurse Kerry
Good Nurse Kerry has fucked her magnificent tits well in a video guaranteed to send your pulse soaring. Kerry then takes the patient's penile temperature with her oral thermometer (aka her sexy mouth). Removing her knickers, the stacked lovely straddles the comatose, yet erect, patient and slowly builds up a shag in reverse cowgirl. He's no dummy, not with Kerry on top of him, moving her tight pussy up and down on the ribbed shaft. Kerry gets on her back so her breasts can get a well-deserved load squirted on them, which she rubs in as she stares at the camera. If only all Nurses would act like Kerry, how the health care system in the lousy world would improve.
September 8th, 2017
19:42 mins
Rating
Download Options
Full Scene Download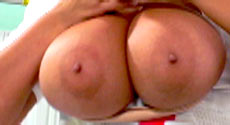 Five-minute Clips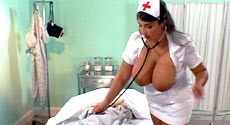 More Kerry Marie Videos